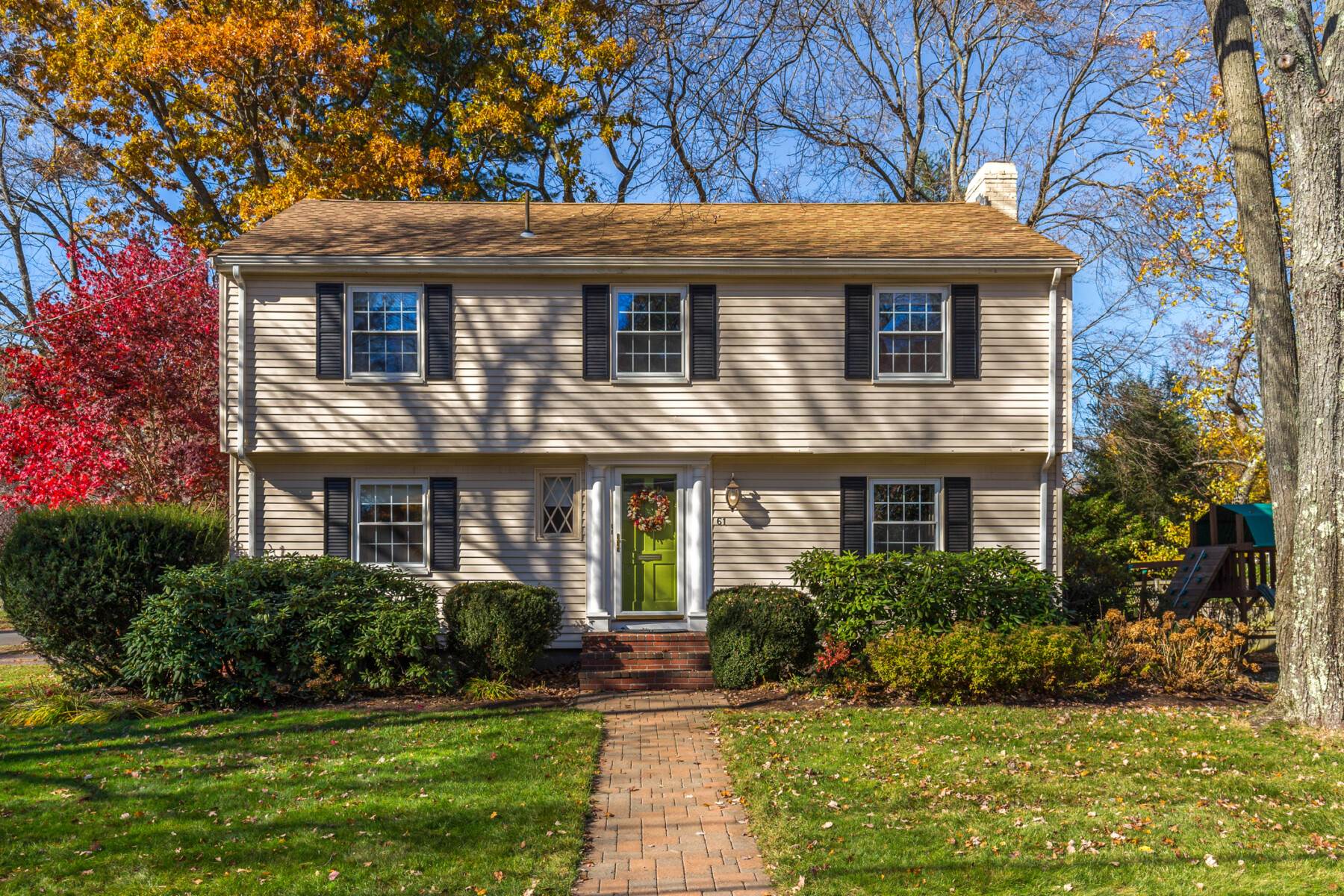 The Colonial-style home first developed out of the US Colonial period in the 1700s when colonists settled primarily along the Eastern Seaboard. Starting as a two-story home with one room on each floor, the style evolved from early European influences and eventually grew into the stately, four-over-four (four rooms on each floor) two-story home Long Islanders still know and love today.
Beauty, Breadth, and Boundaries
Built bold and beautiful with a traditional elegance, the Colonial ranks among the most popular house plan designs in America. Always two or more stories tall, the style features a front door located at the center that opens directly to a staircase (usually made of wood), which bisects the home down the center as the central, dominant design element. A grand front entrance with tall columns completes the dominant and highly formal entryway.
Simple, symmetrical, and rectangular, the Colonial marries form and function with a large, spacious house plan. Usually one room deep and three rooms wide, the layout features a living room, kitchen, dining room, and family room on the first floor and bedrooms on the second and third floors.
A compartmentalized interior gives each room distinct boundaries—a bonus for a private, seclusive lifestyle but a potential downside for lovers of an open floor plan. Typical house plans also include one large central fireplace or two fireplaces located on either side of the home.
Features: Inside and Out
Originally built with massive square footage to accommodate large families and household staff, the Colonial-style home offers plenty of room to spare. Spacious homes with great layouts include multiple bedroom options, areas to socialize, and the perfect amount of room for a large family. Even the more modern Colonial-style homes, built smaller than their predecessors, still offer a generous living space ideal for entertaining.
A signature architecture and exterior elevate curb appeal with details, aesthetics, and well-proportioned features including tall white columns, balconies, large windows, elaborate front entrances, and lengthy front porches.
A centered front door with an even number of windows and columns on either side together create uniformity and symmetry, while a slightly pitched roof removes shadows that can hide the façade. Clean lines create a neat and conservative appearance that leans toward the elegantly simple rather than the eccentric.
Old-world elements from brass furnishings to decorated mirrors dress the interior in dignity and elegance. The exterior style usually remains centuries old. However, modern advances in architecture can breathe new life into a Colonial interior.
More Things to Consider
The Colonial is also an extremely versatile style of home. Although first built in New England with more budget-friendly wood, Colonial homes constructed with brick and stone are now dream homes for all types of Long Island homeowners.
A rectangular shape makes the Colonial easy to expand onto the sides or back for a lower construction cost than a single-story home with the same overall area. And a two-story layout means greater living space on smaller parcel of land.
The style of home also offers a great resale value with a generic nature and malleability that can attract a large pool of potential buyers—a bonus for the seller.
Buy a Colonial home with Team Rita on your side.
Ready to find your dream Colonial-style home? Contact us today to search our database of local inventory, schedule an open house, or explore our featured properties for sale.