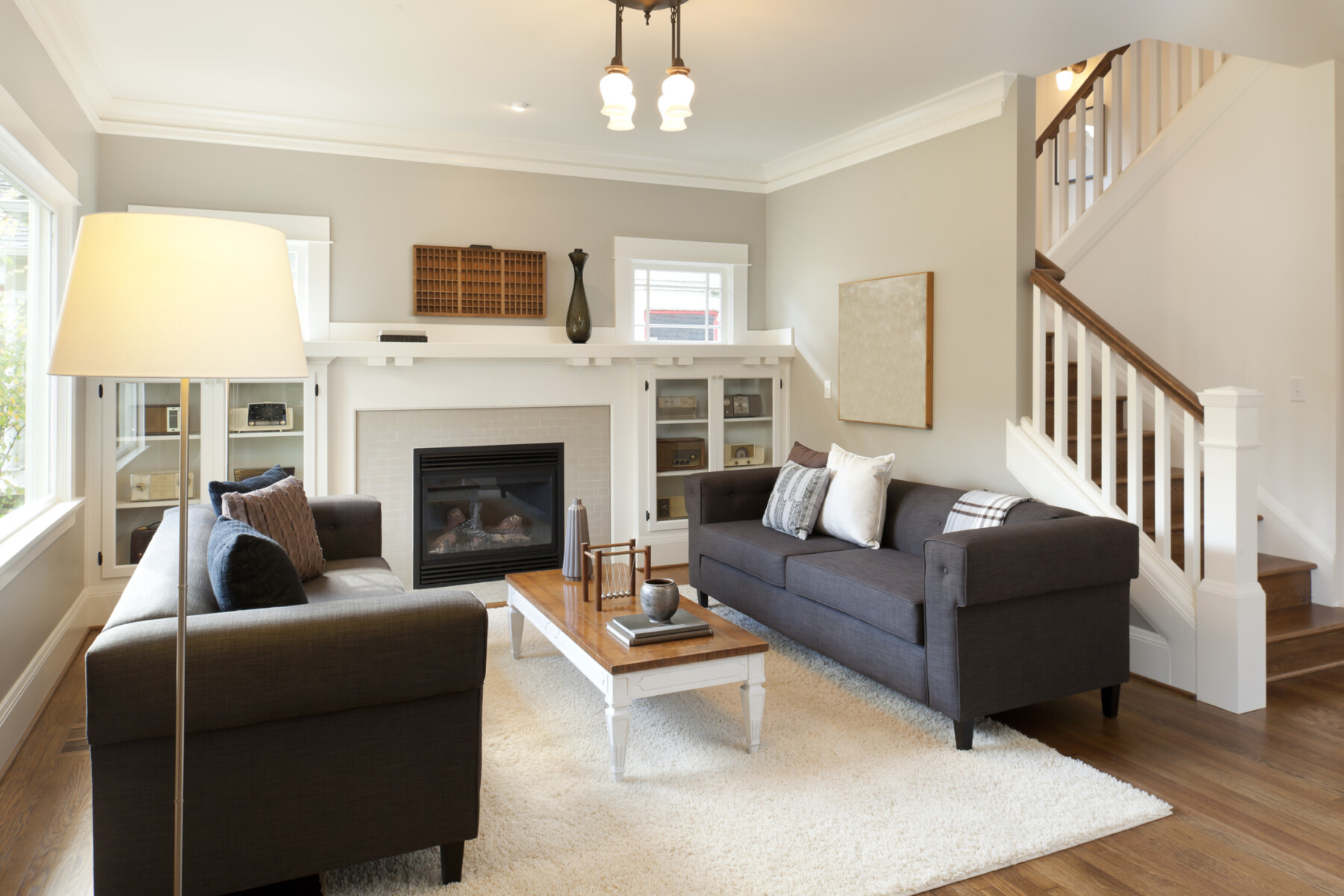 The splanch is a hybrid model that combines features of both the ranch and split-level style of homes. It's not a ranch, and it's not a split-level—but rather, a three-level house inside a two-level skin. The signature feature of the splanch-style home is a separated, elevated living room that sits on its own floor in-between the upper and lower levels—a special space many splanch homeowners convert into a pool room or master bedroom suite.
A Unique Layout and Floor Plan
The main floor of the splanch features an eat-in-kitchen, formal dining room, den, and half bathroom. Stairs lead up from the foyer to the elevated living room, turn the corner, and lead up to a second (or third) floor where bedrooms—usually four or five but sometimes three—sit nestled in an open hallway.
Most splanch floor plans position the kitchen and dining room opposite the garage and center foyer, with the den located behind the kitchen and on the same level, adjacent to an elevated living room that faces the backyard.
Built on a slab, the style of home lacks a full basement but instead features a space underneath the living room, pushed down half a level, where a daylight basement doubles as a laundry area and recreation room.
From the street, a one or two-bay garage—depending on the size of the home—sits on the ground level, loaded from either the side or front of the house.
A Special Kind of Charm
A handful of unique elements make the splanch-style home desirable. A large amount of living space—including a garage—with a modest footprint puts the splanch into a category distinguished from its second cousins including the ranch and split-level style homes.
Sloped cathedral ceilings and beautiful backyard views elevate the look and feel inside the raised living room. And a centralized kitchen with direct access to the den, dining room, and garage makes the home feel more connected than other housing styles designed with long corridors.
Exclusive to Long Island
The splanch-style home was a favorite in the 1960's on the South and North Shores of Long Island. The house style began its fall from popularity in the 1980s (few were built during that decade) and by the 1990s builders retired the splanch. However, today the splanch remains a popular choice with updates and renovations that suit the modern homeowner.
The splanch can exist elsewhere but most are on Long Island. Fun fact: The splanch is so exclusive to New York that most people out of the state have never heard of the house style.
Buy a splanch-style home with Team Rita on your side.
Ready to find your dream splanch-style home? Contact us today to search our database of local inventory, schedule an open house, or explore our featured properties for sale.