Hosting Your First Thanksgiving: A Homeowner's Guide
by Rita
November 6, 2019
0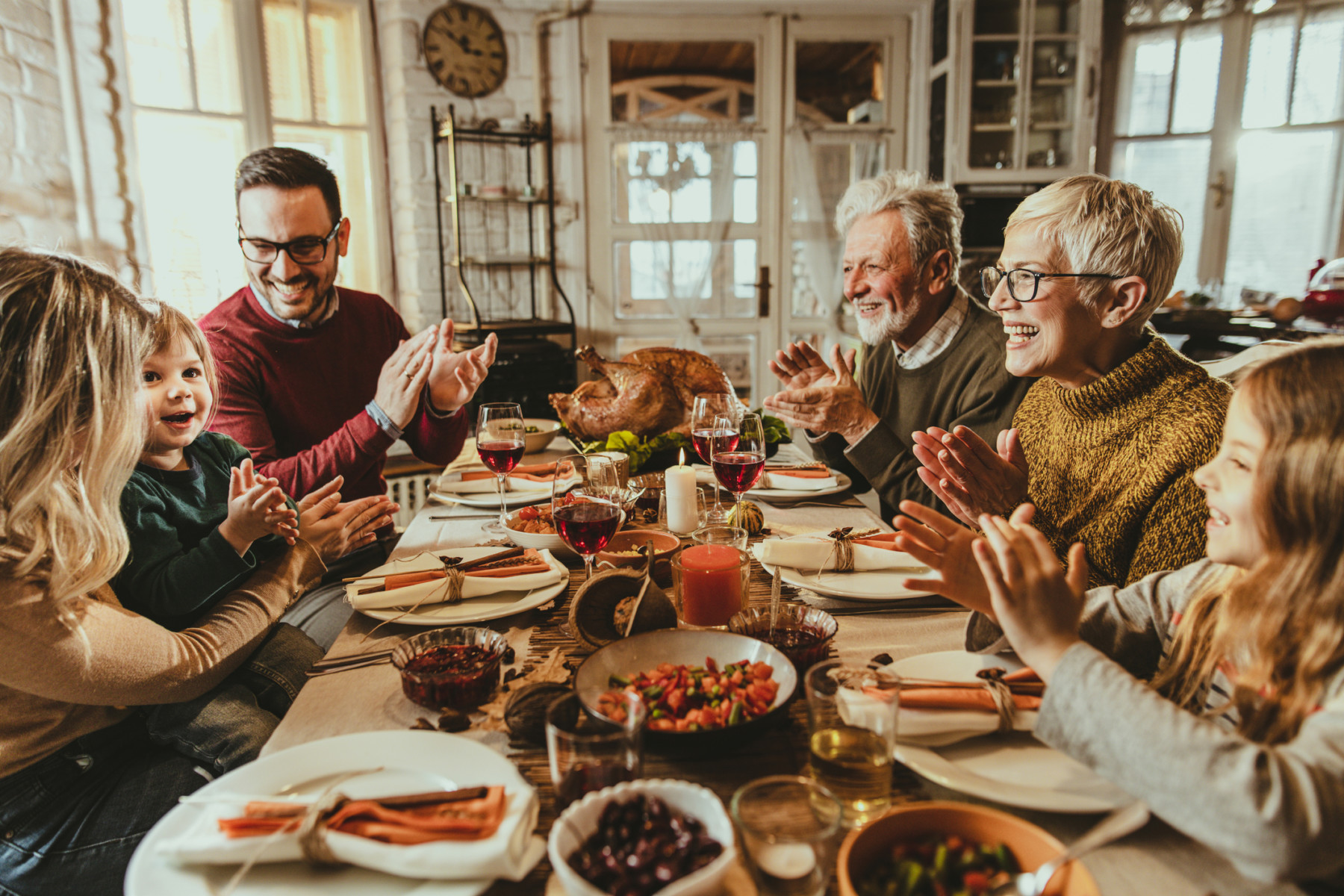 You don't have to be a first-time home buyer to host your first Thanksgiving. (Actually, you could own a home for a decade or more before you muster the courage to tackle the notorious and intimidating undertaking known formally as Thanksgiving dinner.) New to the game but up for the challenge? Follow our homeowner's guide and host your first Turkey Day like a veteran.
Plan your big day.
Hosting your first Thanksgiving begins two to three weeks before the big day—with a pencil and a piece of paper.
First, figure out how many guests (and children) you expect including where you want everyone to sit. Collect your recipes (Google is a first-timer's best friend), create your menu (tailored to guests with dietary restrictions), and build your grocery list. (A pro tip for grocery shopping: separate your perishable and non-perishable items and identify foods to make ahead of time.)
Next, make a timeline and master list of the day's events. (A blank November calendar does the trick.) Plan everything in reverse, starting with the big meal and working your way backwards. Schedule your prep time and oven time, coordinate your pick-ups and deliveries, and stick your T-Day countdown on the fridge or wherever you can see it.
Good planning also means ordering your turkey as early as possible. (Remember that every five pounds of frozen turkey takes one full day to thaw). Three-quarters to a pound of turkey per person should keep everyone satisfied and full and yield enough tasty leftovers to stock your fridge for at least a day or two.
Assign your helpers.
Along with your favorite holiday drink, remember to swallow your pride. The holiday calls for a ton of food—but don't bite off more than you can chew. Do you have to make the turkey and gravy? Yes. Can guests bring a dish to ease your burden? Absolutely.
Thanksgiving works as a potluck affair. However, there are smart ways to ask for help. For example, be specific with the dishes you want guests to bring. (You can even hand out simple recipes.) Better yet, delegate the dishes that stress you out.
Don't ask guests to bring any dishes that require your only oven. Instead, have them bring mashed potatoes and other dishes in a crockpot. Also, put someone in charge of appetizers who doesn't arrive to family functions notoriously late. For the non-cooks on your guest list, assign them drinks, rolls, whipped cream, and pie.
Buy your groceries.
Head to the store with your list in hand. Give yourself a five or six-day buffer to avoid issues with your perishable items, prep your make-ahead dishes, and ease your stress when you (often inevitably) run back to the store because you forgot something. (Bonus points if you can dodge the early Thursday morning mob of last-minute shoppers.)
Start your make-ahead dishes.
Last-minute dishes make for stressful dishes. Instead, make one thing each day to lighten the load. Make and freeze gravy bases as early as the Sunday before Turkey Day. Get a head start on casseroles, vegetables, pies, cranberry sauce, and anything you can refrigerate and reheat on the big day. You can even prepare foods you can't cook in advance. For example, you can wash, peel, and mash potatoes.
A little creativity goes a long way. You can keep dishes warm in the microwave for up to half an hour (just don't press the "power" button), steam gravy in a thermos, and spoon mashed potatoes or rice into an insulated ice bucket or Crock-Pot.
A word of advice: stick to the classic, tried-and-true dishes. Focus on surviving your first Thanksgiving and save the more challenging recipes for when you have a few successes under your belt.
Set your table.
Complement your food prep with your non-food prep. Setting the table a day (or up to one week) ahead of the game gives you one less thing to do (and stress about) on the big day.
You already know the basics like ironing your tablecloth and arranging your plates, utensils, napkins, china, and serving pieces. However, you can also use this extra time to take inventory of any gaps in your tableware.
Don't go overboard or break the bank with your table decorations. Stick to the basics including a nice tablecloth, some festive napkins, and a couple of colorful flower arrangements.
Consider a few tricks of the trade like placing yourself closest to the kitchen (rather than at the head of the table where the host normally sits). Split up couples to liven up the table dynamic and sit small children between their parents. Even better, use place cards so everyone knows where to sit. And the niftiest trick of all: seat left-handed guests at the corners to minimize elbow banging.
Set your boundaries.
Boundaries are important on your big day, so invite guests with a clear arrival time and demand an RSVP. (Stray guests arriving two hours early without notice can wreck your prep time.) However, despite your best efforts, expect a few guests to arrive early.
You also want to know how many guests plan to stay overnight. (Unexpected overnight guests are a nightmare when you just want to curl up on the couch in your food coma after an exhausting holiday.) A guest list also helps you prepare bedrooms and bathrooms with fresh towels and linens.
Figure out your beverages.
An important but often overlooked piece of the pie, Thanksgiving beverages range from traditional wines to spiced cider with bourbon on the side to classic Coca-Cola.
Start your beverage selection with a good, hearty red and a crisp white for guests to pass around the table and serve themselves. Make a pitcher of sparkling apple cider sangria for guests who fancy something different, and stock the fridge with some of your guests' favorite brews.
Alcohol is key for keeping everyone calm and content, which comes in handy if you end up serving dinner an hour behind schedule. You can do without the hassle of serving individual cocktails. However, non-alcoholic choices are a must for children and guests who don't drink.
Get your house ready.
Plan to tidy up the house a few hours ahead of the game. Empty the dishwasher and trash in the kitchen (plan to fill both multiple times before the end of the day), and line bins with more than one bag so you always have a fresh one ready to go.
Hide precious objects from hyper children in the living room and cover the duvet and pillows in the bedroom with a protective sheet for guests to pile their coats and bags on the bed. After you wipe down and clean the bathroom, light a candle for a nice finishing touch.
Roast your turkey.
A turkey in the 12 to 16-pound range should do the trick. Roast every pound of (empty) turkey for 13 minutes and every pound of (stuffed) turkey for 15 minutes. Thaw your turkey in the fridge over a few days for about 24 hours for every five pounds. For juicy, moist, perfectly seasoned white and dark meat, brine your turkey in a salt-water solution (or dry-brine in salt) for a day or so before roasting.
Preheat the oven to 450°F, put your turkey in, drop the temperature to 350°F, and roast until a minimum temperature of 165°F. Stick the thermometer in the thickest part of thigh, without touching the bone, in the center of both the breast and stuffing.
Let your turkey rest for 15 minutes before you start carving. In the meantime, make your gravy for serving alongside. Move your turkey to a cutting board, cover it with foil, and use those delicious pan drippings to flavor the gravy.
Carve your turkey, removing the wings first. Pop out the joints and cut straight through the thighs. Slice close to the rib cage, right up against the rib bones. Separate the thighs and drumsticks and carve the breast meat into slices.
Relax and have fun.
Last on our list for a reason, the final step is the easiest to forget and the most important to remember. Remember, Thanksgiving is about being grateful for your blessings. Throughout the course of the busy, messy, loud day, find ways to live in the spirit of the holiday, and enjoy this special time with family and friends.
Take a deep breath, stick to your game plan, and don't worry about making a mistake. Even if you burn the turkey or spill red wine on your favorite tablecloth, remember that your family and friends are on your side. Honestly, most of your guests are just happy someone else is hosting Thanksgiving.
Buy or sell a home with Team Rita on your side.
We can do more than help you host your first Thanksgiving. Our real estate agents are here to help you buy or sell a home with expert advice, practical knowledge, and real-world experience from both sides of the real estate transaction. Become a client and discover the reason Team Rita ranks as the #1 RE/MAX Team on Long Island.