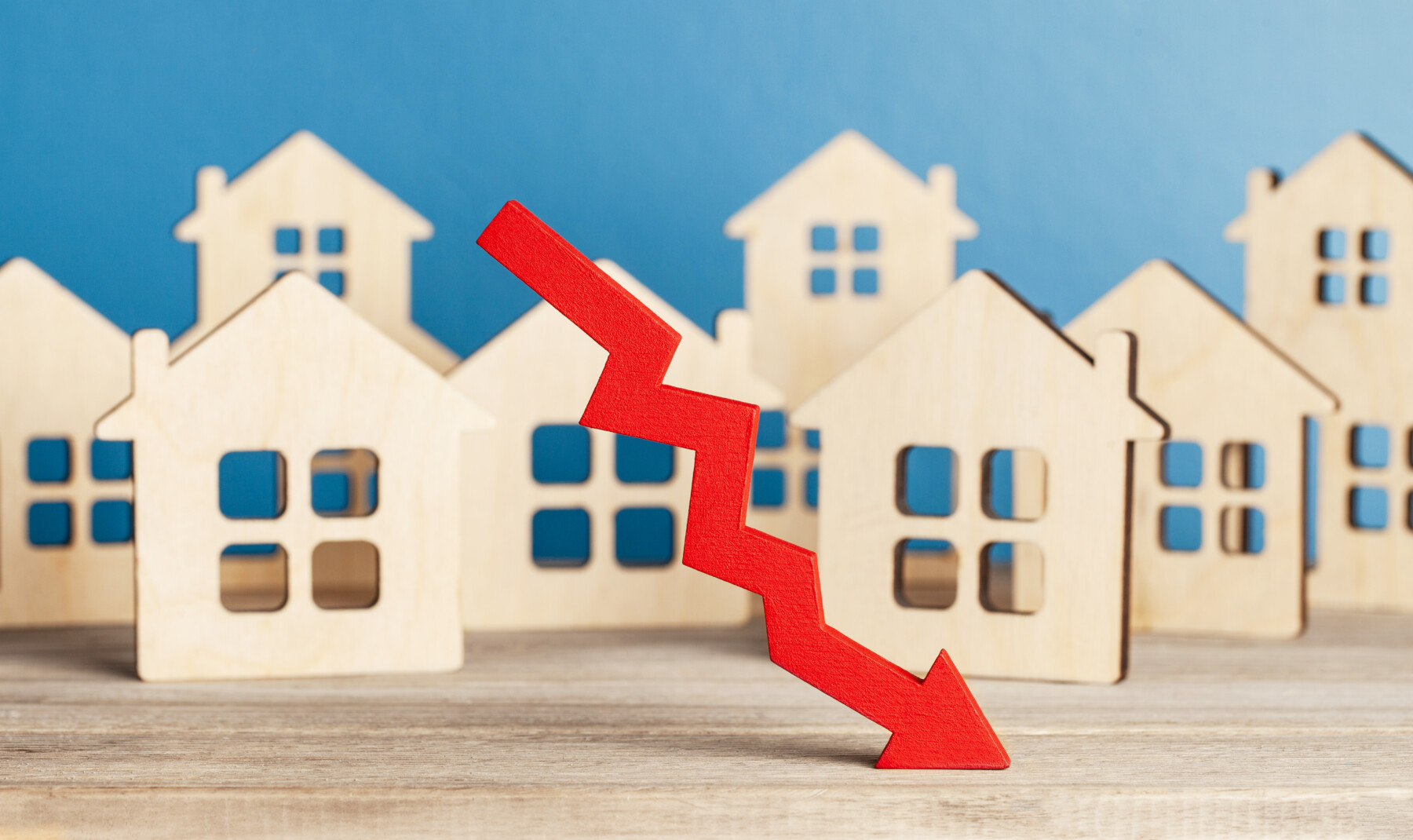 Both buyers and sellers want to know: will Suffolk County home prices drop this year? It's a valid question—the real estate market has exploded with 15% price appreciation in 2021 and 121 consecutive months of year-over-year home price growth. Homes are a hot commodity in our high-demand, low-inventory Suffolk County housing market—and the imbalance puts upward pressure on home prices. It's been a long road—but the answer could be just around the bend.
Rising mortgage rates could cool things down. However, the Long Island housing market remains hot for right now, despite the fastest three-month mortgage rate climb since 1987. The median price for a home sold in Suffolk County last month was $530,000—12.8% higher than last year—and home prices have held steady since the fall.
Median sold price continues double-digit, month-over-month growth across Suffolk County areas including Centereach (+17.6%), East Setauket (+13.5%), Holbrook (+12.4%), Holtsville (+11.2%), and Lake Grove (+10.6%). However, inventory is rising as the number of homes for sale grows in Coram (+6.6%), Farmingville (5.1%), Mount Sinai (+18.3%), Port Jefferson (+13.2%), and Centereach (+4.8%).
Higher rates may not drive prices down just yet. However, we already see a shift in buyer behavior. A Suffolk County buyer shopping in the $800,000 range last year—when interest rates were two points lower—is now looking in the $700,000 range. There is no drop in home prices yet—but that will be the ultimate result.
The market begins to shift
The most competitive housing market in history is finally showing signs of cooling down with more homes listed for sale, fewer buyers scheduling tours, and 15% of home sellers cutting their asking prices in April—up from 9% a year ago. In April, inventory was 12% lower than in April 2021—the smallest year-over-year decline since the end of 2019.
Why the shift? The pace of sales slowed as the average rate on a 30-year fixed mortgage jumped more than 2.5 percentage points since start of 2022. Already-expensive homes became even pricier, sidelining much of the competition with fewer potential buyers, a slowdown in bidding wars, and one in four potential mortgage borrowers knocked out of the market due to higher rates. It's still tough for less-than-strong buyers—and homes are still selling fast.
A softening by design
Experts predict no collapse like last time, when prices rose faster than normal before the bottom fell out, causing the worst housing crash and overall recession in generations. There is no speculation driving the current home overvaluation. Today's market is a softening by design as the Federal Reserve puts upward pressure on mortgage rates to cool down the inflation driven by the runaway housing market.
In December, rates hovered around 3.11% for a 30-year fixed mortgage. That figure is now 5.27%—the highest level since 2009. Higher rates are pricing buyers out of the market and more buyers are struggling with mortgage eligibility. It's been a mild softening—but it's just the start.
Inventory creeps back up
The lack of inventory over the last two years created a pileup of would-be buyers. Behind every buyer priced out of the market is another one waiting in line to take their place. We won't work through the pent-up demand overnight—but once we do, the market will cool even more.
The key to inventory growth is fewer buyers and more sellers. The next two months are crucial for buyers and sellers. Buyers want to snatch up homes right now and sellers want to capitalize on peak demand.
As inventory rises, buyers are still coming out of the woodwork. New inventory and new demand are increasing in lockstep. However, the number of active listings is still down 67% from pre-pandemic levels.
Supply could increase in the next few weeks, putting some fat on one of leanest housing markets in history. If the trend continues, we could see year-over-year inventory growth soon. Over the next 12 months, home price growth could also reach zero year-over-year.
Buyers feel the full brunt
During the pandemic's housing boom, historically low mortgage rates shielded homebuyers even as home prices grew by 34.4%. Today, higher rates are forcing buyers to feel the full brunt of home price growth. In December, buyers spent 24% of their monthly income on mortgage payments. Today, that figure is 34%—the highest since 2006.
Something has to give
Most economists agree that prices can only keep rising at the same pace for so long. It's only a matter of time before home prices at least level off and rise more slowly. Rising mortgage rates are pricing too many buyers out of market. Some experts think prices could fall soon—at least in the most juiced-up real estate markets.
Overvalued markets to overheat
Multiple sources predict some of the more overpriced markets across the country will overheat with prices dropping between 5 to 10% over the coming year. Some speculation is already creeping in, especially in the Phoenix and Charlotte markets which are overvalued by 46% and 33% respectively. Home prices in overheated markets are higher than expected compared to average local incomes.
Almost 96% of 392 metropolitan area markets across the country are considered overvalued with 149 by at least 25%. Values range from -6%—with home prices lower than expected compared to local incomes—up to 73% in Boise, Idaho, the most overvalued city in the country. However, overvaluation doesn't mean prices will fall by that much.
Still, there is no reason to fear a collapse in house prices like last time, especially with two fundamental forces supporting home prices: low supply and new federal rules on lending.
Low supply
The first fundamental force behind home price growth is supply, which remains low with an all-time shortage of homes. Coupled with strong demand, low supply will keep prices high.
Many homebuilders went out of business after the last housing bubble collapsed. Today, we are 4 million homes short. Homebuilders will eventually increase supply and are already ramping things up. It's going to take a while to catch up to the underlying demand that exists today—but we're making progress.
New federal rules
The second fundamental force is new federal rules, which put a hard stop on reckless mortgage lending that led to last housing bubble. Today, more people can afford their loans and lenders are more cautious. Buyers must document their income and ability to repay loans.
Exotic adjustable-rate loans with sharp payment increases are also a thing of the past. Most loans today are fixed at 30 or 15 years. For these reasons, some economists think even a mild drop in home prices is unlikely anytime soon. Many believe there is a very low probability or risk of home price decline.
Over coming 12 months, some experts predict home prices will rise another 5.2% to 5.9%. However, most can agree that home price growth is set to decelerate significantly over the long run, causing the ongoing housing boom to wind down.
An inflection point rounds the bend
An inflection point for the Suffolk County housing market is almost at our door. We already see early signs of economic fundamentals weakening including an increase in home price cuts, a rise in cancellations at new-home communities, and more loan officers reporting buyers starting to stretch their budgets.
Next steps for buyers and sellers
If you're thinking about selling your home and moving up, strike while the iron is hot. Experts forecast strong—but more moderate—ongoing home price appreciation throughout 2022 as strong buyer demand and historically tight inventory continue to drive a seller's market.
If you're planning to buy a home after selling, think twice before you wait for prices to drop. Between climbing mortgage rates and rising home prices, playing the waiting game could cost you more in long run.
Buying before prices climb further may make most financial sense for you. It's risky to wait for a deal on prices—and buying now could fare better than waiting until 2023.
However, there are no guarantees in real estate. Home prices could drop as much as 10% across the country. With no evidence of a home price correction around the bend, buying or selling a Long Island home today is as good a time as any.
Buy or sell a Suffolk County home with Team Rita.
Ready to buy or sell a Suffolk County home? Contact us today to search our database of local inventory, find an open house, or explore our featured properties for sale.