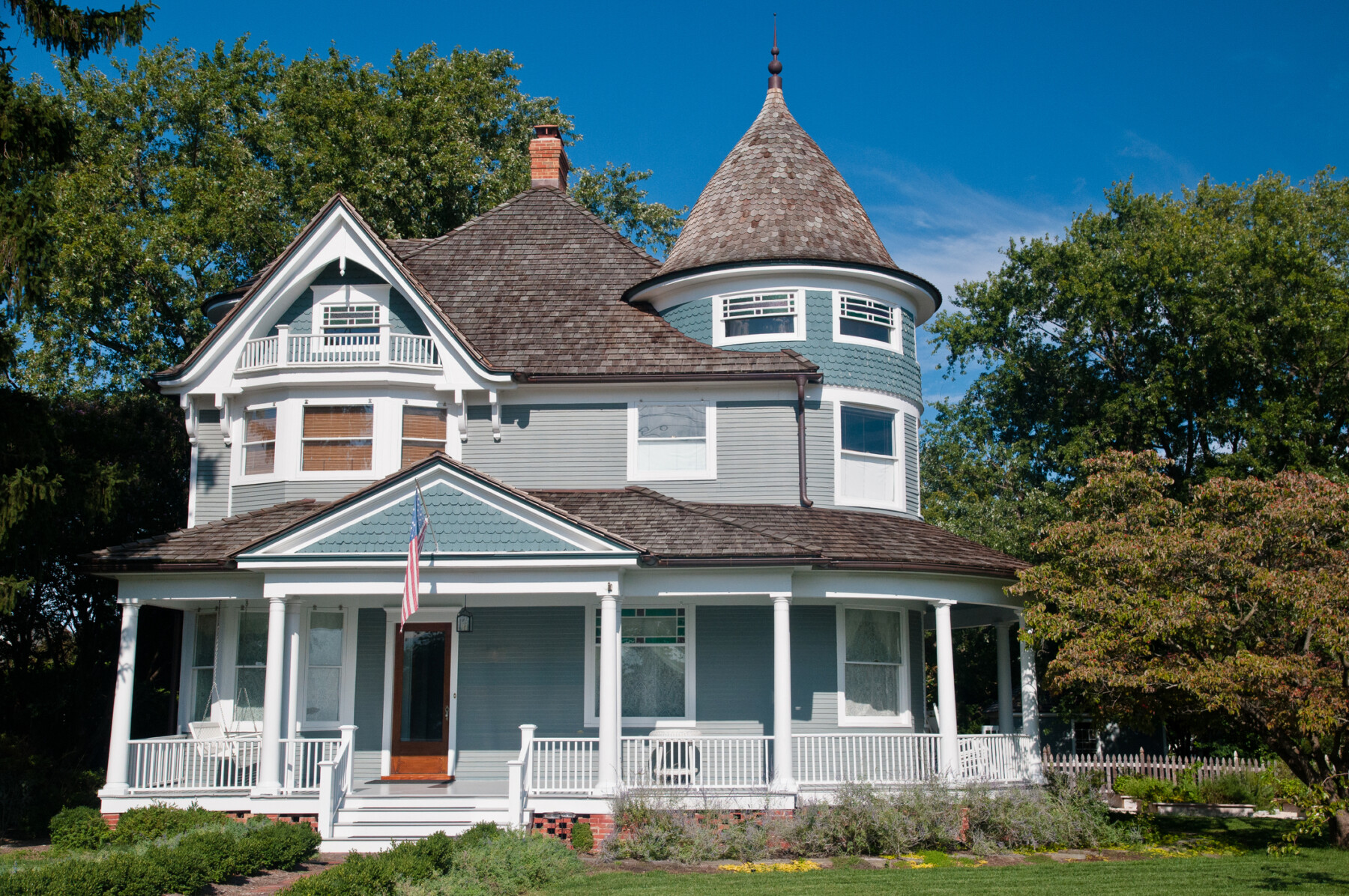 For the last two centuries, the home style built with fanciful construction and a special dollhouse-like exterior—named after Queen Victoria, the longest reigning Queen of the United Kingdom from 1837 to 1901—has captured the hearts of homeowners around the world. The Victorian architecture that first emerged in the 1830's—and remained popular through the early twentieth century—today brings homeowners multiple, distinct variations featuring more exterior and interior style than meets the eye.
Exterior Features of the Victorian Home
Despite variance among styles, defining exterior features tie the Victorian architectural style together, including:
Colorful facades: Among the most recognizable features of a Victorian home is its painted facade. Colorful exteriors boast either bright pastels or more muted tones with decorative features painted a different color.
Two or three stories: Built on narrow plots of land—often in a row—the typical Victorian home stands two to three stories tall.
Embellished millwork: Known for its intricately carved woodwork that adorns the windows, doorways and eaves, the Victorian exterior features ornate trimming that creates the signature gingerbread house look.
Glazed bricks: For Victorian houses made from brick instead of wood, glazing in different colors creates extra ornamentation.
Eclectic array of windows: Part of Victorian's signature charm comes from the decorative nature of its windows. A single home could possess windows in a variety of styles, shapes, and sizes including stained glass, eyebrow, porthole, cameo, arched, and multi-pane windows.
Bay windows: Adding to its eclectic variety of windows, Victorian homes also feature bay windows that protrude out of the front facade.
Towers, turrets, and dormers: Victorian-era builders experimented with asymmetrical architectural designs, which birthed the idea of making round or octagonal towers and turrets a prominent feature. The same is true for dormers with windows extending out of sloped roofs.
Porches: Front porches or wrap-around side porches enhance visual appeal with extra ornamentation.
Steep, gabled roofs: Builders of the Victorian era constructed triangular-shaped pitched roofs that face the front.
Interior Features of Victorian Houses
Beautiful exteriors are met with even more elaborate interiors. Enter the Victorian home and discover highly decorated interiors designed to accommodate the more formal lifestyles of its residents.
Typically designed with 'closed' floor plans and long areas of transition like halls and stairs, the Victorian interior often features heavy crown molding, window, and door trim as well as 8" to 16" baseboards.
Meant to appease both homeowners and guests, the interior features multiple parlors—in place of a living room—and a formal dining room. It's not uncommon to find double parlors with fireplaces sporting wooden mantles and separated by sliding pocket doors.
The most notable feature of the Victorian interior is the woodwork—sometimes limited to large, ornate crown, window and base moldings, and other times extended to raised panel walls, built-in bookcases, staircases, and bannisters in solid wood.
The ceilings are another interesting feature—sometimes with designs or patterns molded into the wet plaster, and other times with wood paneled ceilings or ceilings plated with stamped tin.
Victorian interior color schemes vary but follow a few common themes including woodwork and stained dark floors. Preferred colors include rich earth and jewel tones or creamy off-whites. The Victorian era also popularized the idea of walls decorated with richly patterned wallpapers.
Designers of this era favored wall sconces and chandeliers as sources of interior lighting with chandeliers normally reserved for the living room and dining room, and wall sconces placed around fireplaces, doorways, archways, and on accent walls.
Buy a Victorian home with Team Rita on your side.
Ready to find your dream Victorian-style home? Contact us today to search our database of local inventory, schedule an open house, or explore our featured properties for sale.